The mail leaves Laredo, Texas facility semi-weekly and arrives here in 2-5 days, depending if there is a weekend involved. Our competitors generally take longer.
Notification of New Mail
Once we have received and processed our mail delivery, we send out an email notification to all of our members, listing anonymously the box numbers which have mail.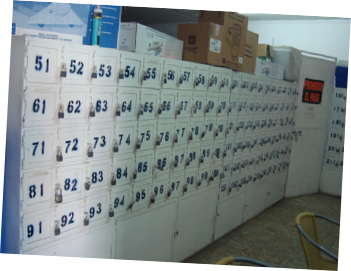 When you are away, should you desire merely to have your Box held open for you without mail service, we shall do so at a cost of only $5.00 US per month.
Your Address
Your mailing address in the US is:
Your Name
5802 Bob Bullock C1, Unit 328C-*** (*** = your Box Number)
Laredo, TX 78041-8813, USA
How to Rent a Mailbox
To sign up for your mailbox, please email us at info@handymailtomx.com or visit us at our store.  Handy Mail is centrally located in San Antonio Tlayacapan (next to Ajijic), Carretera Chapala-Jocotepec 159C, one block east of Super Lake.