You may receive packages at your mailbox address in Mexico.  We do not accept or ship packages at your Laredo, TX address.  The cost of sending them on down to Mexico is brutal.  The shipper's basic cost is $18.00, plus Mexican Customs Duty, plus possible weight charges, etc.  Packages sent in error will be Returned to Sender.  We receive and Forward most all other items such as: 
letters, 
large envelopes which will bend,
newspapers, (the large N.Y. Times is OK)
unpackaged magazines (several magazines in a clear plastic envelope are OK)  
license plates and small boxes like those banks use to mail checks are fine.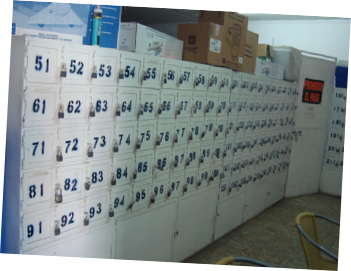 If you need to send a package, we recommend you ask a friend that's coming to visit, or use a courier service such as FedEx or UPS to send the package
all the way down to your local residence or your Handy Mail Mexican Box address which is:
    Carr. Chapala-Jocotepec #159 C-*** (***= your Box Number)
    San Antonio Tlayacapan,
    Jalisco, Mexico. 45915
You may also use this address for mail or couriered packages sent from within Mexico.
Our competitors use the same shippers (Merkalink-Estafeta) who handle all, or about all, the mail transportation in Mexico.  Without the packages, we believe our mail moves a little faster.  Some people use the Mexican mail, but postage is extremely high and there is some pilferage.